By Peggy Roalf Monday November 3, 2014
What are some of your favorite things about living and working in your current locale?
I grew up in a far eastern Hollywood influenced Silverlake type neighborhood in Ulaanbaatar, Mongolia. Current Locale: Below the ice sheet of Europa, moon of Jupiter.
My favorite thing about living and working in my current locale is that I have discovered that life exists outside of New York City. I don't have to struggle to get out of the city. I'm out.
The Cloisters are 15 minutes away by car, Harlem is a 20 minute train ride, the commute time to midtown is the same as it was from Brooklyn, but the main attraction is the interior Europa nature scene: the Bronx River Parkway Reservation, an 807-acre linear park with an amazing bike-path that was created as an adjunct to the Bronx River Parkway in 1925.
Do you keep a sketchbook? What is the balance between the art you create on paper versus in the computer?
I have about 45 sketchbooks from the past 30 years. My ratio is about 50/50 paper vs. computer. I've never had paper crash on me. Love pen & ink, paint, pencil & paper
Snake-eyes / Ryuichi Sakamoto, Mototronic CD.
What do you like best about your workspace?
That I have one, with all my books there or nearby. It's a custom-made multimedia laboratory and above the ice sheet Jupiter dominates the sky.
What is the most important item in your studio?
Electricity, a well rested and caffeinated brain, a functioning pain-free nervous system, my drawing hand and unstressed minimally interrupted work-time.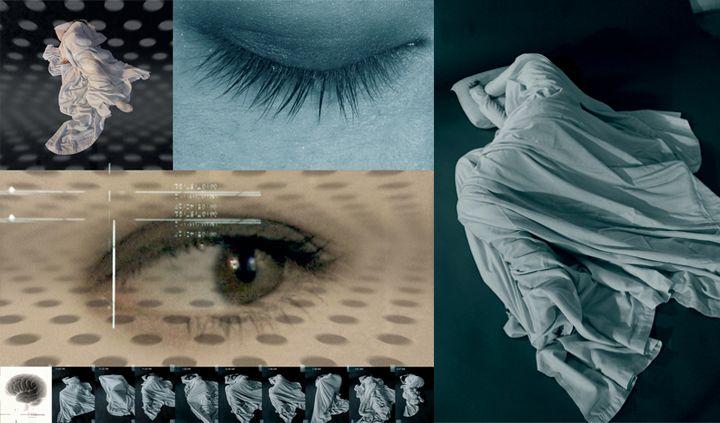 NYTimes Special Science Section: Sleep
What is your favorite part of the creative process?
When nothing seems to be working out and work is nothing but a slog through a viscous and tenacious tar pit, suddenly out of nowhere the pieces of the puzzle will magically fall into place, seemingly by divine intervention.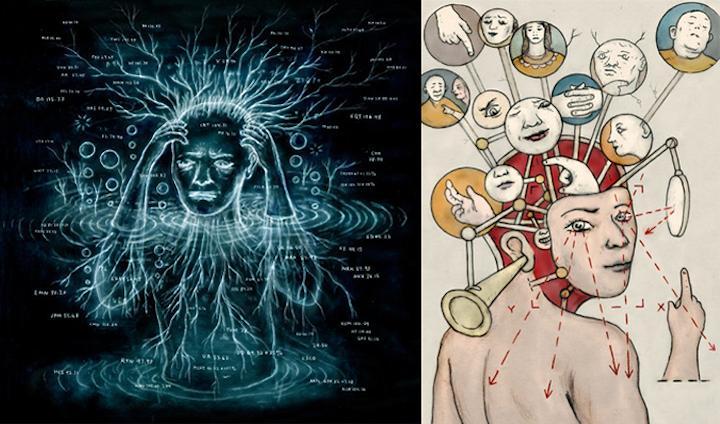 Left: NYTimes Sunday Review: The Biology of Risk. Right: NYTimes Gray Matter: What the Brain Can Tell Us About Art.
What was the strangest or most unusual assignment you've taken?
My very first New York Times Op/Ed illustration was for a very dark and depressing editorial about a terminal heart patient -
who's name was not mentioned anywhere in the manuscript.
The very next day after submitting my artwork, the newspaper came out. I rushed out to buy a copy. Immediately I noticed that the editors had added a surprise headline:
'Mr. Rosen's long painful death'(!).
What did you learn from the experience?
I had (hopefully not) illustrated my own obituary.
What was your favorite book as a child?
Too many to list.
Voyage to the Mushroom Planet
, a major monograph on Heironymous Bosch, Dr Suess's
Sleep
and
Birthday
books,
The Griffin and the Minor Canon
(Sendak),
Raggedy Ann, The Dog who Belonged to Himself, Goodnight Moon, Picasso at Work
(David Douglas Duncan)...um, jeez how much time have you got?
What is the best book you've recently read?
Empire Rising
by Thomas Kelly, a novel about the building of the empire state building and Depression-era New York City corruption.
Fantasia of Color in Early Cinema
, about hand coloring in early film.
A New Method of Landscape
by Alexander Cozens, the blot-master general about free-association and art in the 18th century, long before Rorscharch did blots.
If you had to choose one medium to work in for an entire year, eliminating all others, what medium would you choose?
If you're talking all expenses paid, then that would have to be Performance Animation.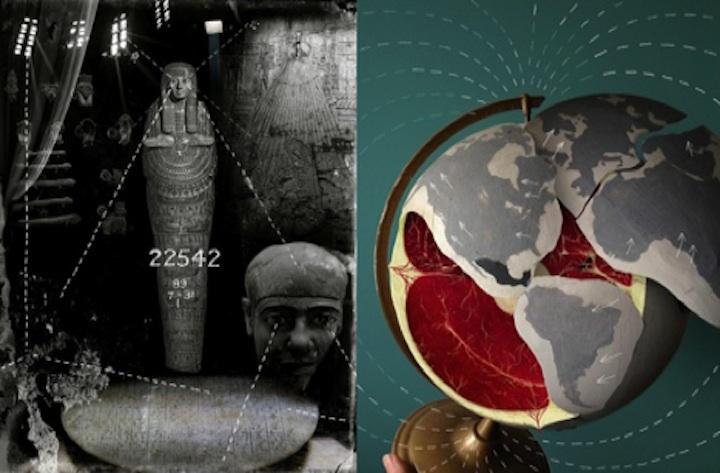 Nautilus Magazine ISSUE 012: Feedback
What was the last art exhibition you saw and what did you take away from it?
Rite of Passage: The Early Years of Vienna Actionism, 1960 – 1966 at Hauser and Wirth, NY, NY. Medical fetish art has it's giants and some of them were 60's Viennese performance artists.
Where do you teach—and what do you like best about teaching?
I teach at SVA. I like the fact that it's a never ending on-the-job learning experience (and that's a good thing). I also like the fact that a hydroponic temperature-controlled greenhouse environment can speed up artistic growth exponentially.
What advice would you give a young artist about applying to an art school or college?
Do the math.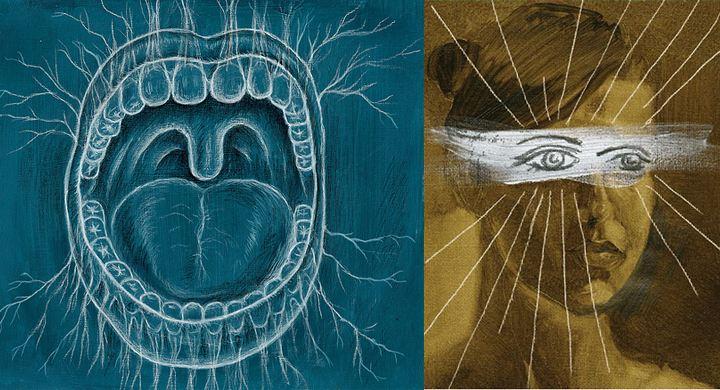 Left: NY Times Health Section: Irrational Radiation Fears. Right: 100 heads for Haiti.
What would be your last supper?
You mean whist dining with my disciples before being crucified? Or, not? Ok; let me see, would that be hallucinogenic pumpkin cheesecake, or Chanterelles, morels, puffballs and pickled seaweed flambé ? Or perhaps something perverse? Have to say this is a rather morbid question to end on. Nothing against morbid but I think the true answer has to remain private.
Jonathon Rosen
is painter, illustrator, animator and faculty member of the MFA Visual Narrative and Illustration/Cartooning departments at The School of Visual Arts, NY. NY. The merging of humans and machines permeates his work and aesthetics. His artist books Intestinal fortitude (PootePress, 1990) and The Birth of Machine Consciousness (Le Dernier Cri 2003) are in the permanent collection of the Metropolitan Museum of Art. He was responsible for the Ichabod Crane drawings in Tim Burton's film Sleepy Hollow. Solo & group exhibitions include La Luz de Jesus, LA, MoMAPS.1, and Kunst-Werk, Berlin. Commissioned art clients include The New York Times, Hopital Brut, Rolling Stone, Time and MIT Press. Animation/Video-mix performance venues include the Redcat Theater for the LA. MOCA exhibition Visual Music with composer Tom Recchion. Videos on Vimeo.